The Minnesota Hospital Association has embarked on the journey of advancing patient and family engagement alongside Minnesota hospitals and health systems. Using a framework for measurement from the Center for Medicare and Medicaid Services (CMS), MHA collects data across the state for patient and family engagement.
There are five Patient and Family Engagement measures that MHA collects from hospitals and health systems across the state. These measures are:
Use of a planning checklist for patients known to be coming to the hospital. This activity occurs at the point of care.
Conducting shift change huddles / bedside reporting with patients and families in all feasible cases. This activity occurs at the point of care.
Designation of an accountable staff member in the hospital who is responsible for implementing and evaluating patient and family engagement. This activity occurs at the hospital policy and protocol level.
Hospital has an active Patient and Family Advisory Committee (PFEC or PFAC) or other committees where patients are represented. This activity occurs at the hospital policy and protocol level.
One or more patient representatives serve on the hospital Board of Directors. This activity occurs at the hospital governance level.
The goal of these activities is to include the point of view of patients and family members in decisions regarding care, policies and protocols, and hospital operations.
Measure number four, for example, means the hospital has a formal relationship with patient and family advisors from the local community who provide input and guidance on hospital operations, policies, procedures, and quality improvement efforts. The relationship may be a Patient and Family Advisory Council, (PFAC), which is comprised mostly of patients and family members. Meeting the fourth measure confirms that a hospital includes patients and family members as advisors when addressing operations or quality improvement activities.
MHA has been collecting data on the five specific measurements since 2013. Data collection started by MHA staff calling individual hospitals to have a discussion about patient and family engagement efforts. It was both a way to learn what hospitals and health systems were doing, but also to help answer questions and brainstorm ideas about the ways that patients and families could be included.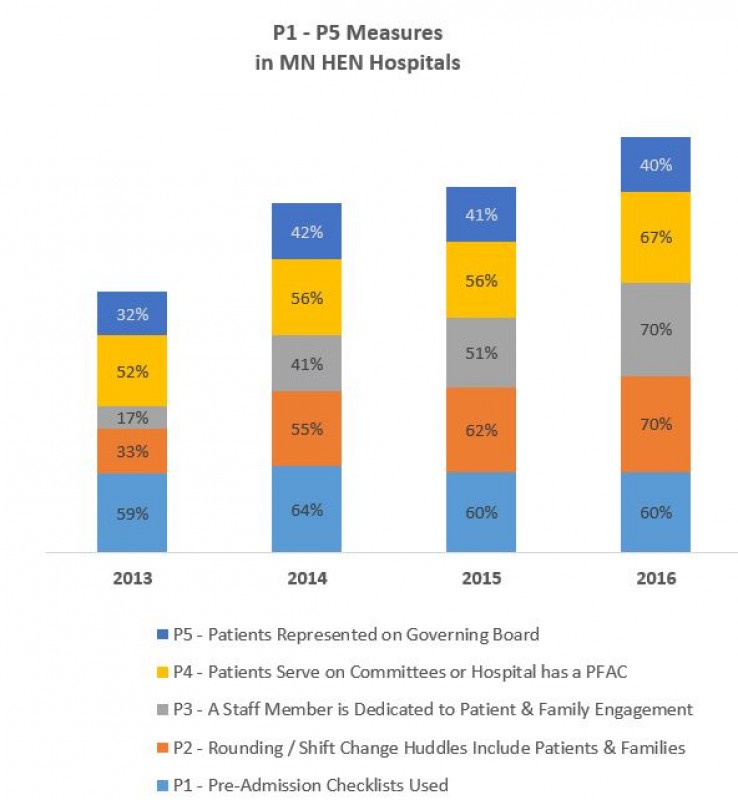 Joy Benn, Quality and Patient Safety Specialist at MHA states, "MHA is committed to support efforts of our member hospitals to include patients and families at all levels of care, and we provide education and consulting services designed to promote a culture of patient and family engagement."
In the last few months, MHA has created a new, web-based data portal that hospitals and health systems can enter their own data for how they are advancing engagement efforts. MHA tracks and reports on this information and continues to work with hospitals to meet the 5 PFE measures provided by CMS
Caution, look out ahead! Challenges faced by the Minnesota Hospital Association:
Gathering the data from organizations requires they have a good understanding of the 5 metrics and the intention of each one.
Patient and family engagement is a new concept for many. MHA is developing new and innovative ways to deliver effective training to staff, leaders, patients and families across Minnesota.
The 5 metrics MHA is tracking for CMS are not the only ways hospitals can measure their progress. We encourage hospitals and health care systems utilize internal measures of PFE efforts that are meaningful to their work.